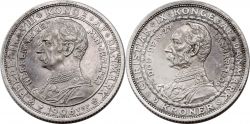 Denmark 2 Kr 1906 UNC


Price:
$90
You are now only one step away from owning your very own piece of legendary numismatics. To ensure your purchase of this product proceedes smoothly, we suggest you contact us directly by phone on (07) 55 380 300 and quote

STOCK1256

and our friendly staff will complete the transaction and payment with you. Alternatively, you may click terms of sale.

PAYMENT DETAILS:


Direct Bank Transfer
Account: Legendary Numismatics Pty. Ltd.
BSB: 014 513
Account No: 2657 86512

A $100 deposit will secure your purchase untill we contact you to finalise it.

Call us on (07) 55 380 300 or click here once you have made payment to finalise your details.
Credit Card
Online Payment gateway coming soon.

Call us on (07) 55 380 300 to organise credit card purchases.